Perfect Close
"How would you describe your personal sense of style?"
I shifted uncomfortably in the old metal folding chair and crossed one of my legs tight over the other, rolling my brown leather loafer-clad foot in circles, my raised, cuffed denim jeans exposing my socks — a bright purple and spotted with yellow sharks. After a languid moment in repose staring out the office's only window onto a Back Bay alleyway, obviously reaching deep within for my answer, I spoke.
"Preppy with an edge."
A silence hung in the humid early summer air as my interviewer ran her eyes down my folded, fashionable frame. I stopped rolling my foot.
"Tell us something we couldn't get from reading your resume," she demanded, staring at me with a piercing gaze so cold even the heat from a nearby steaming iron could not melt it. Her accent — Australian by way of L.A. — was more chic than I could fathom in my tiny twenty year-old mind.
I kept still. I was nervous, shaking in my leather loafers. I felt sweat, heavy, speeding down the back of my head and feared she could see straight through my cool, calm, collected interview posturing to my sweaty, desperate gay soul. I needed this job.
I hesitated to share the only answer that came to mind; it was too unhinged without context, too left-of-sexy center for an aspiring retail sales associate, too… me. I felt small and gross and intimidated.
I smiled through discomfort at my racing thoughts, momentarily charmed by my fish-out-of-water circumstances. I was being grilled, figuratively and literally, by a corporate hiring manager for American Apparel and the overwhelming heat of the second-floor stock room — compounded by rising summer heat, a broken air conditioner, and the cramped, steamy quarters themselves.
My rampant search for something other than the obvious broke, and I gave into the exquisite pressure of time, building at a seemingly exponential rate since she asked her question.
"I'm a writer. I've been doing a lot of dramatic writing… a lot of playwriting, as of late, but I can't seem to write an ending for any of my plays, and my friends like to poke fun at me a bit, because instead of figuring it out, I spend something like 20 pages building to some apocalyptic event. I just keep ending my plays with the end of the world. I'm an apocalypse drama playwright."
If I were writing this interview as it unfolded, perhaps I would've reached my twentieth apocalypse-building page right here and enjoyed a proper cataclysm instead of the alien awkwardness that followed instead.
I watched something flash in my interviewer's icy, sharp eyes. She looked at the store manager beside her who flashed her a smile.
Together, they both spoke variations on, "Terrific, okay, thank you so much for coming in. We'll definitely get back to you soon."
Hands were shaken and I shuffled down the staircase that connected the steamy stock-room with the bustling retail-lined real-world Newbury Street below. I put on my sunglasses. If nothing else, I still felt sexy in my crisp white oxford, dark denim, and potent loafers-and-socks combination.
"Preppy with an edge." Not bad! I strode down Newbury Street; perhaps I would reward myself with a drink somewhere in town, or a small reflexive token of my own affection for my efforts today.
"Preppy… with an edge?" What does that mean? Are my purple J.Crew socks spotted with yellow shark shapes the edge to which I was referring? I look like I had just stepped off a Young Republicans Yacht Tour of the Outer Harbor Islands. Bad. Bad, bad, bad.
I made an about-face and ambled towards my neighborhood. Perhaps I would walk home, mull it over, pick apart each moment of the interview and gauge my expectations so I could tell those in my corner what to expect. Oh, I needed this job badly.
What would I tell my best friend, Jake, who helped me prepare for my interview? He worked at another store location further down Newbury Street, with immediate success. He's so stylish, so handsome, so effortlessly cool. We role played the interviews and chose my outfit. He directed and photographed the "style snapshot" required for my application.
What would I tell my new boyfriend, Nicky, for whom I needed to buy nice foods and sweet wines and shiny amulets to distract him from my body image nervousness and emotional insecurity and progress our burgeoning young gay love? When I sent him the photo Jake took of me for my job application, he replied with several lines of various industrial-themed emoji and the exclamation, "Woahhhh!! SMOKESHOW!!!!" He had also been working as a chocolatier down Newbury Street for quite some time, and I had to at least match that in homosexual cuteness for this relationship to succeed!!
What would I tell my mother, who supported me through and through and through and through, emotionally, financially, genetically? She had worked in her youth as a literal hair model, her golden brown tresses falling around and framing her perfectly-symmetrical Greek Goddess face in all sorts of gorgeous glamour shots, one of which hung in my room, which was a little odd, I admit, but inspired me daily and especially in my retail fashionista ascendancy!!!!
I texted Jake, "it went well!!!!!!!"
"Delivered" popped up beneath my text message bubble, and I moaned aloud in lament of my Certifiable Lie as I leapt into and across several lanes of traffic.
"I'm an apocalypse drama playwright!!! WHAT DOES THAT MEAN?????" I shouted through windshields at drivers and their passengers. "Now, I'll never write a real ending of a play!!!!! MY LIFE IS OVER AND IT HASN'T EVEN BEGUN!!!!!!!!!"
Two summer weeks passed like an endless eon during which time, despite all efforts otherwise, rolled by like the viscous black treacle that ran North End streets in the Great Boston Molassacre. The only casualty, however, was my morale, my ambition.
The close of my sophomore year of college and the passing of its business and many successes had left me feeling on top of the world without anything to do, a self-made king without a kingdom. Living in Boston and in my own apartment far from my childhood home for the first summer in my life, I lost myself in my liberty. I would rise, around noon with a half-consumed glass of Yellowtail Pinot Grigio nearest my head on my bedside table and grimace, hungover from our college-age, half-hearted but seemingly obligatory summertime celebrations the night prior. Thinking my youthful self something like invincible, I rejected my physical state and instead chose to sweat through my hangover at the gym while studying my horoscope app (hoping for good news) and texting friends with whom I might pass time. I returned home, showered, and ate (too little) before clocking some time writing my latest pet project, a music blog. I spilled scintillating and incisive reporting about Beyoncé's latest goings-on to my mass of followers (28 at current count) and felt a sense of grande accomplishment. By then, it was 5PM. Friends who worked would soon return to the several streets in college-hood Allston where we all lived, and as my hangover had only just vanished, I could begin drinking again. I'd grab the double bottle of Yellowtail Pinot Grigio I kept beneath my bedside table — for convenience, of course — and rinse last night's glass. I'd sit in my living room with my libation and get busy concocting plans. Would we congregate there, at my place, and drink and smoke the night away, or would we venture out with our fake IDs and try our luck on the town? Better yet, would my Nicky make plans with me? I don't know how much it really mattered. It was not the nights that were most consequential to me and my well-being, but rather the days that framed them. This lesson was hard-won with a perpetual hangover.
Two summer weeks passed following my interview, and I reached wits end; I knew something was wrong and my life had grown somewhat unsustainable. I walked into the city instead of going to the gym one afternoon and sat by the wading pool in Copley Square, feeling maudlin and watching children play, blissfully unaware of the insurmountable and titanic responsibilities of impending adulthood for a young, spoiled, hyper-dramatic millennial. I called my mother and complained that I had yet to hear back from American Apparel.
"I have a good feeling today, Mike. You're going to hear something soon. I know it. Mama's always right."
I was comforted to sense her certainty and thought to the glamour shot of her that hung in my room. She had to be right.
I refreshed my email and lo and behold, as if the Greek Goddess herself had willed it to be, an email from my future supervisor from American Apparel, offering me a position as a sales associate at MA-2, the smaller of the two Newbury Street locations they had open at the time. I texted my mother, overjoyed.
"Mama knows," she replied. "I told you, didn't I?"
I texted Jake, proud. "Yasssssssssssssssssss!" he replied.
I texted my Nicky, relieved. "OMG!" he replied, followed by a string of clothing emoji.
I quickly returned the email and scheduled my first day.
I climbed atop a pillar at the Copley Square wading pool and addressed the children splashing about in the warm fountain water.
"Children, fear not for your futures! As proven by my job offering here today, you, too, can play your way into adulthood and win yourself an entry level, minimum-wage job selling bandeaus and leggings at one of the more controversial retail companies of our time, whose CEO has been accused on countless occasions of sexual assault and general sleaziness! I was once you, but now, I am me, Michael John Ciszewski, sales associate of American Apparel, and like my employer, and like you, I was made right here in the U.S. of A.! Reach for the stars and land in the stars and stripes!!"
I vaulted city streets home and celebrated. Over the next long week, I sped through my aforementioned sad summer routine on the power of cheap white wine and excitement before my first shift.
The day finally arrived. I showed up wearing exactly what I wore to my interview — if it worked before, it'll work again.
"Do you own any American Apparel?" my boss inquired amidst small talk as I filled out the paperwork required to formalize my deal with the Devil Dov Charney.
A fair question, but one I was tremendously grateful did not come up in my interview, because…
"No, I don't actually." I smiled at her.
"That's no problem; you get a new hire allotment, a new hire allowance, and a seasonal allowance."
My eyes grew wide. I began to salivate and froth at the mouth. I heard the faint sounds of a crowd at a roller disco, "The Hustle," playing faintly in the background. The small, staid makeshift office grew warm, hot like the tired fluorescent bulbs hanging overhead that seemed to glow neon pink and blue. Have you seen Beyoncé's "Blow" music video? With the lollipops and Farrah Fawcett haircuts? My onboarding looked and felt just like that, but that didn't come out for another seven months. My experience that day became her mood board for the video.
The tantalizing promise hypnotized me. Visions of six foot tall homosexual Michael John through a neo-psychedelic American Apparel outfit kaleidoscope cluttered my widened mind's eye. I leaned back in my chair and fell; deeper and deeper, I plunged down into a technicolor rabbit hole. The whistle hook of "The Hustle" teased and taunted me the whole way down. I closed my eyes and braced for impact.
FLASH! There I was, clad in a cinched watermelon-pattern bandeau and metallic leggings, sweatbands at every joint, working overtime to get my glutes in shape on an elliptical as Schwarzenegger-like body-builders balked at my buns in the background.
BLAM! A cabana club and I am the cabana boy, serving piña coladas in coconut halves to Michael Cera in his classic red American Apparel hoodie from Juno and Adam Brody in a deep- V-neck tee shirt and selvedge denim jeans and Jason Schwartzman wearing head-to-toe linen like in The Darjeeling Limited or something else Andersonian. I am there, hair perfectly coiffed and wind-swept, clad in a lime green mesh tank top with white athletic-style trim and light blue vegan leather shorts, tied tight around my itty bitty waist with an elastic drawstring. They sip.
"Mmmmmm!!! Michael!!! These are delicious!" they all exclaim awkwardly but also in a hot way.
"Thanks boys!" I raise my left wrist to look at my gleaming gold Casio calculator watch. "That'll be…" I trail off as my large man-fingers, too big for the tiny buttons of the fashionable wrist-bound microcomputer, fail to calculate their tab. "…on the house!"
They all kiss me through the mesh of my tank top.
BANG! It is nighttime and the opening sax riff of George Michael's "Careless Whisper" echoes throughout a steamy nightclub. I am sat at a table in the corner, alone, watching the action unfold before me in slow motion. A gentleman traipses to my table clad only in Parrots in Paradise patterned leggings. He thrusts a serving tray before me; on it, a double bottle of Yellow Tail Pinot Grigio. "From a gentleman across the club." I am flummoxed, but unsurprised. I look good, sitting there in my jungle print bomber jacket, three-quarter sleeve pink baseball tee, and silver lame shorts. I thank him with a kiss on the cheek and offer him eight American dollars. He declines, removes the yellow-sunflower pattern baseball cap I am wearing backwards on my head, and sniffs my tresses. "That'll be all." He shimmies away, his pecs giggling as he goes.
I consume the double bottle of Yellow Tail Pinot Grigio and wonder, "whoever could my secret admirer be?"
Through a purple mist, I see a shadowy figure approach.
It is Paul Rudd with his Wet Hot American Summer haircut. He wears tight chambray pants and a thin black leather belt with gold buckle. Tucked into it is a white American Flag graphic tank-top. Over it, barely hanging from his lithe, masculine, hirsute body is a thin 100% cotton short-sleeve button down in pastel orange.
He leans in, his stubble grazing my earlobes, and whispers, "I've been watching you."
Chills.
"Run away with me."
He seizes my hand and we begin to gallop a pace out the club. Our muscular bodies hurl the doors open and we meet the blinding white light of our future together.
It is the fluorescent light hanging high above the makeshift office in back stock.
"What size are you?" my boss asks me.
"Small in shirts. Thirty two waist, thirty two length."
She rifles through a bin and pulls out a plastic package.
"Some of it's abnormal, but it's a start, so you can wear whatever fits today and then you can spend your new hire allotment and a little later in the summer, everyone gets their seasonal allotment so that works out for you. And employees discount is fifty percent."
That summer, my dreams would begin coming true.
I changed into my allotment and went downstairs. My first day began innocently enough. I had yet to be trained, so I was not encouraged to engage actively with customers. Instead, I cleaned the fitting rooms and the floors and kept my head down; I wanted my boss' first impression of me-as-employee to be a good one. But, like moth to flame, the customers found their way to me (as I was a readily available and often unoccupied staff member awaiting some excitement) and, regardless of my lack of formal training, I did my best not to disappoint.
I experienced my first rush that afternoon shortly after my customer engagement seal had been broken. In the rear of the store, I was responsible for manning 'the fits,' which is cute inside-baseball slang for fitting rooms, is it not? Shortly after 5PM, a ravenous pack of teenage girls and their pacifying mothers came bounding into the store, wreaking havoc to our meticulously color-arranged sales racks and perfectly hung crop tops. I watched in awe, as dozens of tiny Tasmanian devils careened throughout the store, begging to be bought shirts of the shiniest lamé for whatever Berklee College of Music summer pre-college they were attending and mucking up my spotless fits in the process.
I dove into the fray and engaged; at first, it was awkward. What expertise did I, clad in my first American Apparel courtesy of my abnormal allotment, have to offer these petit patrons and their parents?
A lot, actually!!
My confidence quickly and exponentially grew with every fun mom who found the gay sales associate with whom they could play-flirt and tease their daughters. I identified a line to straddle — agree with mom, sympathize with daughter — and danced on my newfound trapeze to acclaim and big sales. I also realized my job was not necessarily to curate entire outfits tailor made to flatter and embolden the personality and body type of each individual I assisted, but rather to continue to provide options (from most expensive to least, of course) and do my best to read the (fitting) room and rapidly build consensus around items that received the warmest reactions. I merely had to sense the desired effect, which is far less subtle than a customer might imagine, and, with as much integrity as possible, sell the clothes to suit.
I was a natural.
I worked four or five shifts a week. I gained a steady reputation for tracking a notably large amount of sales during my shift. If it wasn't due to my aforementioned "customer is always right" sales strategy, it was most definitely because I ruthlessly shared my name with customers.
"Hey can I help you with anything!? No?? Just browsing? Fabulous! My name is Michael. Let me know if I can do anything for you. Hey, did you wanna start a fitting room for those two scrunchies? Sure, that's no problem, I'll take those back and set up the room for you. Whenever you're ready, just let me know, my name is Michael. Did you need a smaller sized scrunchie?? Sure thing! I brought you that scrunchie in a smaller size and three different halter dresses for you to try on as well; they're a great match! Let me know if you have any questions, my name is Michael. Forgot what real love feels like? Here it is, my name is Michael."
I did it because we made commission on sales above our individual daily goal. When a customer would check out, they were always asked, "did anyone help you today?" Even if I did not hold their hand through their retail experience as exemplified in the aforementioned illustration, mine was the name they had heard the most while in the store, and mine was the name they gave at the register.
Besides working the fits and reflexively name-dropping, my favorite work task was answering the phone, if only for the opportunity it provided to speak the greeting each employee had been trained to recite upon receiving a call. The whole thing went something like the following.
We'd be standing around talking about how whichever hot customer had just left the store was our new Daddy.
*Ring ring. Ring ring.*
Lights. Music: Anita Ward's "Ring My Bell."
I would slut drop to the ground in my distressed acid wash denim jeans and oversized salmon-colored fisherman's sweater and bellow, "The call…… is MINE!"
Next, I'd flounce to the cash wrap (retail in-word for cashier's station), kicking my ballet flats behind me, my golden fields of wheat blonde hair glowing as I pass the disco pants.
"Yasssss BITCH YOU GET THAT PHONE!! GET IT!!" a co-worker preaches.
And I would, raising the receiver to my ear, gently so as not to harsh my hairdo. I rest the reciever on my shoulder and cock my head towards it so as to free my hands. I lick my lips — (diction is important, I learned that in acting school). I'd raise my left hand to eye line to gaze with discretion at my fingernails, and then…
"American Apparel Newbury Street Sweatshop Free this is Michael."
That was our greeting. One could always tell where a sales associate was trained for the greeting they used when answering the phone. I knew a few key holders in my time who'd substitute, "Made in the U.S.A." for "Sweatshop Free." God, they were so cool.
Meanwhile, I never knew if there was any punctuation to emphasize in or make sense of the greeting. Why did "Sweatshop Free" follow the store location? Of course, there were no sweatshops in our shoebox-sized Newbury Street boutique. Alternately, it most certainly did not qualify who was answering the call. I am Sweatshop Free, of course, but that is also nonsense. No matter. It made me feel like I had all the answers for all the questions. (They were usually about our hours or return policy.)
On Fridays, my co-worker friends — all funny and strange young people, mostly gay and/or female and/or of color — and I would brainstorm the most effective ways we could spend a large chunk of our paycheck on whatever wonderfully absurd latest style arrived. We talked about our boyfriends and girlfriends and theorized which of the looks we tried on when the store was particularly dead would make them scream the most. We would commandeer the in-store speakers, giving us all a welcome reprieve from corporate internet "Viva Radio." "Viva Radio" played that remix of Metronomy's "Aquarius" that made people think they liked Metronomy, 70s easy listening hits, and 80s deep house with parodic interstitials about the trustworthiness of American Apparel's made in the U.S.A. garments. Instead, we listened to the handful of songs Azealia Banks had released at the time.
While my time at American Apparel did little to change my over-eager approach to professional life, it did significantly overhaul my wardrobe and leave me feeling like the happy-go-lucky lead in some gay retail parody of Glengarry Glen Ross. And it gave me a sense of purpose to which I so inherently belonged.
I'd traipse to work mid-day and "slay the sales floor," as co-workers claimed, hustling until my meal break and hustling after, to store close.
One meal break, I sat outside the Starbucks two doors down, vigorously shaking with both hands the Zesty Chicken and Black Bean Salad Bowl that was my daily sustenance while holding my plastic fork between my teeth when I noticed a woman down the block was not only staring at me, but taking my picture, too. Stunned, I dropped my fork and my salad to the sidewalk and literally lost my lunch. The woman approached, profusely apologizing in a faint Germanic accent. She was my age and told me she was a travel photographer going from city to city around the world to photograph young people going about their business in their natural habitats. She asked me if I'd tell her a little about myself. I obliged. She offered to buy me a new salad. I accepted.
"For my caption, will you tell me what it is you're doing today?"
"Waiting to get out of work to be with my boyfriend," I told her, a delusional romantic glint in my eye.
I returned to work and got back to the hustle. By 9PM, it was time to begin to "perfect close" the store, which meant cleaning the store, returning garments abandoned after they were tried on, re-stocking and re-arranging the racks in established color order, and — most diabolically — "finger spacing" each of the hangers on all of the racks from the back of the store to the front so our manager on duty could photograph each display and send the images to corporate.
When finally set free, I'd bound to Nicky's house listening to a playlist I had devised to best meet my spirit that summer called, "All I Need." On it: Katy Perry's "Roar" and Lady Gaga's "Applause," twenty times over. They had released them as the lead singles from their forthcoming albums within a week of each other, and I found them embodiments of all the success and confidence I felt at the time and harbingers of the joy and glory to come as I stayed the course.
I'd arrive at his apartment and he would answer the door, shout a stream of assorted heart-eyes emoji at me, call me "hot guy" in passing, and genuinely laud my sales accomplishments with just the right dash of understanding how profoundly silly it all was.
I loved it, I loved him, and I was so very happy. My life made so much sense.
The days grew shorter and cooler. Katy Perry released Prism. Lady Gaga released Artpop. Both were alternately monumental disappointments, and I am afraid to say my Fall would be, as well.
My fizzy summer high proved unsustainable. I returned to conservatory training; my schedule overwhelmed me and all I had come to know my life to be. I had to resign from work at American Apparel. I had to move on from my relationship with my first love.
"It is with the deepest, most heartfelt regard that I have to resign my position as SF Associate at MA-2," I began.
Eight paragraphs later, I closed, "I am truly sorry and deeply grateful for our time together and the opportunities you laid forth for me. Yours with a heavy heart, Michael."
Hindsight is 20/20, and I was so overwrought and self-serious, but I had fallen so head over heels in summer love, and that would not have been as hot or as blissful without my time slaying the floor at American Apparel.
I went to school. I went abroad. I mended and moved on and grew up, and by March of the following year, with spring's flirtations beguiling me, I was ready to return for more. Among five dense and pleading paragraphs, I beseeched my boss:
"I'll be back in Boston for good on June 1, and as I mentioned when I unfortunately had to resign last fall, I would Literally Kill a Living Creature to work for the company again!! The more hindsight I develop, the more my time as a Sales Associate seems to me the closest I've ever gotten to Nirvana. Working in the store is something I felt very passionately about, as I'm sure you remember. It was an exciting, professional thrill of a job opportunity for me in which I truly excelled, and best of all, enjoyed myself. And so, if there's ANY sort of opening in the staff beginning in June, I hope I would be considered for a most promising comeback (like when Mariah put out "It's Like That" and "We Belong Together" back-to-back, remember that?!?!! The best!!) I'm sure my salesmanship has held up since I last ran around the sales floor, and I can guarantee I picked up a few new style tricks from the Europeans!"
I attached pictures of my brand loyalty and enthusiasm in both Dublin and Paris.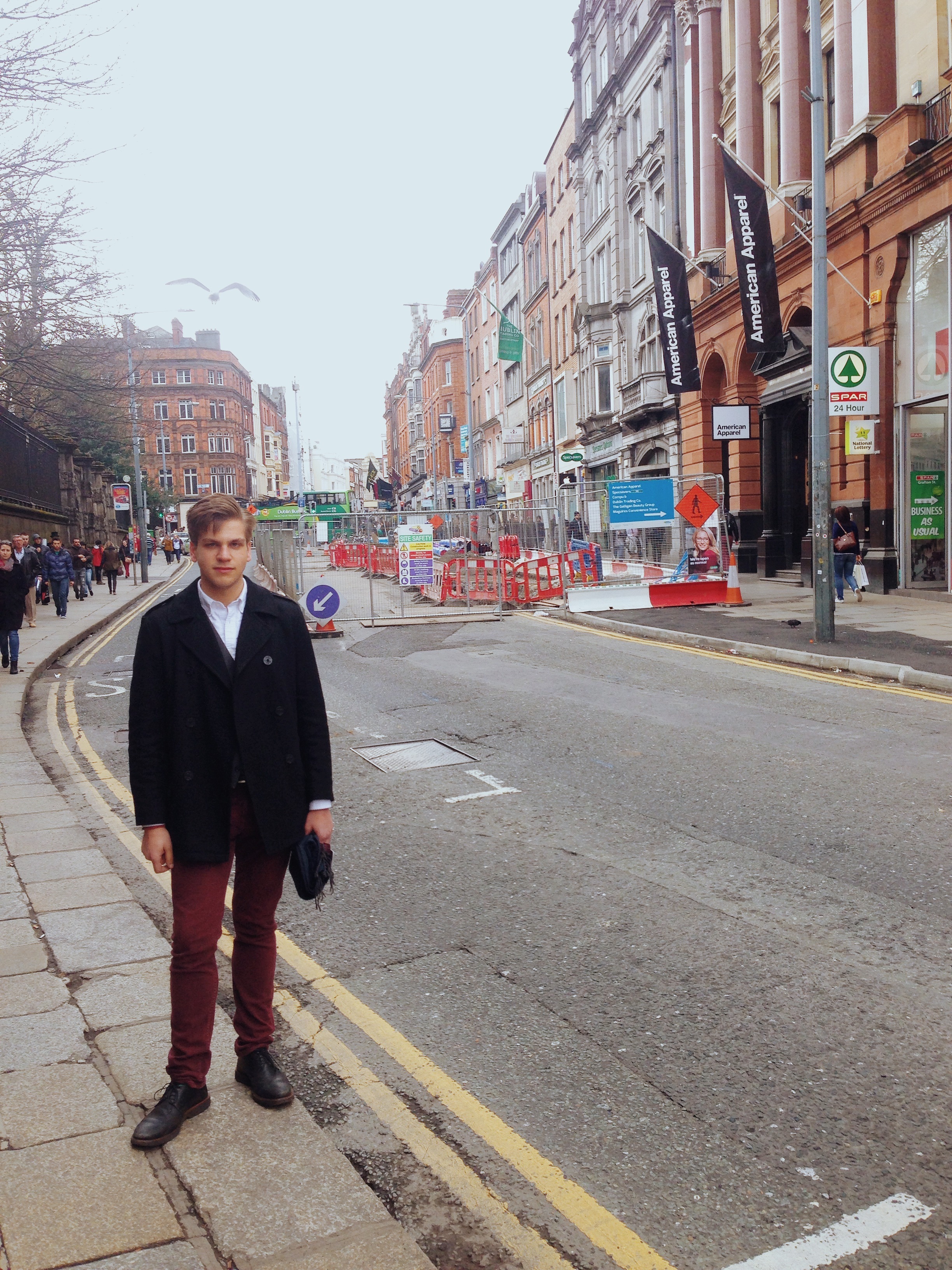 She responded simply, "We would absolutely love to have you back for the summer! Keep me posted when you are back in the city and we will set up a time to do paperwork!"
That June, I climbed back into the ring for Round 2 at MA-2 with veteran status and a promotion. I would now serve as cashier, ringing up sales and manning the cash wrap. To me, this meant answering the phone even more than last summer and bumping the tunes as I pleased.
Compared to the seemingly fateful, aspirational narrative of the year prior, my second summer at American Apparel did not unfold as neatly, as deliberately. Much less the quintessential professional bildungsroman of the first, the sequel was, like so many, overdone, fussy, meandering, and at times, bleak.
I returned with the best intentions, immediately diving into my favorite feature of my former life I could still enjoy — my routine. Purpose once again liberated me from my little Allston apartment and I ascribed my life an ascendant dynamic that would lead into my senior year of college, a self-fulfilling prophecy that would be thwarted several times over.
Single and still glowing from the seven months I lived in and traveled Western Europe, I had a chip on my shoulder. Daily, I worked to maintain it, balance it, put it on display.
I'd rise early with the dull ache of last night's convivial drinking and run to the gym, where I had begun focusing on building muscle. I would lift and crunch till sore, then down a protein shake to bolster my efforts. For a long time, I convinced myself protein shakes were not as bad or as chalky as people complained, but I was merely insulating myself from the harsh reality of their thinly masked metallic taste and synthetically slimy texture. This summer, I would finally become the lil' gay Adonis of my dreams, and this magical enchanted elixir would help me there.
I would shower and dress in any of the myriad articles of American Apparel clothing I now owned and cut across the city to work.
I held court from the register in the center of the store. At first, I was a tentative ruler. I am an impatient person and I projected that quality onto my customers in line. I had so long thrived on being their hero on the floor, battling against ill-fitting bandeaus and poorly-advised prints until I could deliver them unto their deserved perfect-fit paradise. Things were different off the field; I was now responsible for jurisdiction, administration, and transaction. I had to close the deal, get the cash, and lead each shopper into a New Day in which they dressed up their just-purchased fashionable basics with chunky jewelry and expensive shoes just as Rihanna does. Something about handling the money of others made me nervous. That, and removing magnetic security sensors. Management liked to stick all sorts of sensors and dongles all over the itty-bitty pieces we sold, because our stores were deeply susceptible to shoplifting. If I found them a nuisance, and I spent six hours a day removing them from bra-straps and drawstrings, one would like to think they would preclude the butterfingers of a less-familiar shoplifting foe.
They did not.
I never really noticed the problem with shoplifting my first summer at American Apparel. Perhaps it was an easy summer. Perhaps it was my lower station and lessened responsibilities as a sales associate. Perhaps I had my head stuck in the (red) white and blue clouds above. Regardless, I received shoplifting prevention training alongside my cashier training upon my return, and Nothing Was the Same. Suddenly, I could see it everywhere, a silent killer, butchering our sales in cold blood, right before our eyes.
I was told one could not explicitly accuse a customer of shoplifting. I was never sure why, and neither were my co-workers, which eventually made for some colorful run-ins. However, management had devised and insisted we enact all sorts of incredible and obscenely annoying behavioral tactics to prevent shoplifting.
The first — and management's favorite — was performative excellent customer service. This one was simple! All one had to do to squash shoplifting dead in its terrible tracks was… be extra nice, and observant, and brutally interrogate each suspicious shopper about their intentions, desires, and feelings until their mission was illuminated, undressed to stark nakedness in the harsh fluorescent lights of the sales floor.
I once tailed a few suspects with excessive courtesy, asking about occasions for which they might be shopping, inquiring curiously about the "vibe" for which they were going, and suggesting pairings for each garment their sticky fingers grazed like a sales sommelier. To me, it was like an improv game, and one I could play interminably, at that. To them, it was no fun from the onset, but it built, with each of my question's upwards inflections, indicating my growing, cloying, all-too-genuine desire to comprehensively understand their retail pursuits.
"If you're interested in the ponte skater dress, we just got in the chunky clear plastic sandals, and those pair together for a really flirty look that doesn't compromise it's sex appeal! What size shoe are you?"
"I see you've got a few of the pleated tennis skirts in your hands, so I grabbed a few cotton spandex sleeveless crop tops for you to try on with those (I love the pink lips pattern, so Miley)… is there a particular occasion you're shopping for?!"
"The disco shorts are so worth it; you can dress them up or dress them down, and they're so comfortable… I don't particularly know from experience, though I wish I did (wouldn't that be something??) I know a lot of people like to wear them right over one of our long-sleeve deep-cut cotton spandex bodysuits, so I got you one in metallic gold and one in metallic silver; are you making an outfit for any fun weekend plans?!??"
Finally, they broke.
"Why are you all up in my SHIT, FAGGOT?!?? Jesus Christ, can't I fucking shop in PEACE?!!"
"I'm so sorry, I just wanted to — "
"Fuck you, fuck all of you, honestly. I got this faggot tailing me with his stupid ass questions and the other two fucking homos up at the front ready to jump me, like I don't feel safe in here. Fuck this store. Fuck American Apparel."
She dropped her garments, and the pairings I had diligently suggested, on the floor.
She collected her friends.
"Let's get the fuck out of here; we're not getting anything today. Y'all just lost some serious business with this fuckery. Let's just go steal from the one down the street."
They left. A few customers applauded — I'm not sure which side — and my co-workers could barely keep it together before they burst out laughing when the group left the store. I took it in stride and returned to my post. My manager told us to reach out to the staff at the store down the road to warn them, so I called and gave them a thorough description.
Another time, the tables were turned, and a group of shoplifters thwarted at our sister store down the road had called to forewarn us. I took the call and typed up the description in Microsoft Word on the computer at my register. It read, in ominous red text on a black background, "six people 3 red hair 1 red eyebrows hair in a twist scarf she threatened Chelsea tall one with blonde hair shorter one with black hair med height **chunky**"
It was indelicate, at best, but it did the trick. My manager addressed them upon their entrance and they left with only a string of expletives.
These medium-stakes hijinks bonded our staff and the staff down the road; a real sense of community developed between our stores like two Islands of Misfit Toys dressed to kill any abominable shoplifters that came our way and commiserate over misguided corporate directives like, "White Day," which is less diabolical than it sounds if you've seen Hairspray.
"White Day" was a day on which all employees had to wear "head-to-toe white," breathlessly inform our stunned customers that the "summer of white" was upon us, and guide them to purchases that would arm them accordingly. It was ludicrous and most of us (perhaps like most people not going to an end-of-season Hamptons party) hated dressing like a sexy Catholic choir boy.
"White Day," however, paled in comparison to "Swimsuit Day," which legitimately exposed our female employees to sexual objectification and harassment. All employees were simply told to come to work in swimsuits. For men, trunks and a tank top with tennis shoes were suggested. For women, our skimpy bikinis and matching bottoms, denim shorts and chunky-heeled sandals. The most we won for them in protest was a sheer camisole added atop.
These ~marketing techniques~ and the grossly sexualized image projected by the brand at large, attracted all sorts to our stores.
Single that summer, I was flattered to receive my fair share of flirty come-ons from young gay men I helped to new threads. At first, I did not know enough what to expect or how to receive such passes, but after one particular prospective suitor hit me over the head with his methodologies, I caught wise.
He was tall, lanky, and baby-faced. I greeted him as I customarily do all customers and asked him if he needed help finding anything.
"Yeah, actually!" his immediate enthusiasm, shooting through his wide, bright blue eyes, blinded me.
"Oh my god, great! Then, I'm your guy."
"Yeah you are."
I smiled, a little confused. "What can I help you with?"
"I want to get a few things that look………………………………………..….. particularly…….. femme."
"Oh! Okay. Well, this is the right place for that," I joked, still trying to understand the situation.
We moseyed around the store, him following (perhaps a bit too) close (on my) behind. He let his long, slender fingers tickle and caress each of the items I suggested. Particular items that caught his attention, he picked up, draped over his body and asked, "does this look femme?"
"A baseball tee with lilac accents is femme in a subversive sort-of way, I think. That's always fun."
"Sure is," he bit his lip.
He tried on at least eight garments. Each time he assembled an outfit, he'd unlock his door and ask I take a look, seemingly waiting for me to open his fitting room door to see. I did not take that bait.
"I'm right out here."
He came out, and each time, asked me, "cute?????"
"Yes! Very!" I was being honest; he was, and the clothes often are.
"Ok..…. But does it look femme???????"
"Yeah!"
"Cuz I wanna look femme….."
"Totally!"
"Do you like that??"
"It's a good look!"
"Yeah, I like that, too."
He bought everything he tried on; I rang him up and he thanked me profusely. He left the store and ran into two of my friends who had been with me throughout his fitting room femme-test.
They came to see me after and told me, "Michael, that guy just came up to us and said, 'fuck your friend is cute. The gorgeous blonde? Yeah, he's hot.'"
Naturally, all my co-workers overheard. All simultaneously applauded and fog-horned, "GET IT!! GET IT!!!! GET YOURS, GURL!!!!!!"
Dumbfounded, I simply obliged and briefly left the store to look for him. Up and down the street, no sign of my Femme Friend.
I returned empty-handed.
"Ok but you can look up the email that you sent his receipt to in the system and add him on Facebook and message him and fall in love and make blonde babies together," a coworker suggested breathlessly.
Again, I obliged, but his email address returned no search results on Facebook. It was not meant to be.
In naked display of the God-awful double standard facing the store's pretty, young workforce, our female employees sometimes had stalkers who would come see them. Managers had to begin to insist scheduling male employees work the floor with them in case of a visit. My store had a frequent visitor who would try on tight or spandex bottoms and come out of his fitting room, asking for an opinion on how they looked, sporting an erection. We got as clever as possible with such occurrences and bait-and-switched the creep by sending the female employee elsewhere in the store and manning the fits with one of our more dudely or simply nonplussed male employees.
We took it in as much stride as possible, understanding, ridiculing, and playing the insanity inherent in our company's vibe lent it by fearless leader Dov Charney.
The most fun product of such was had with our store Instagram, on which managers would post curated and staged pictures of its #aaemployees (#aamen and #aawomen), vetted and approved by our corporate overlords, outfitted entirely on-brand in ensembles we elsewhere would not be caught dead. I was featured three times over my two-year employment with American Apparel, once on my first day and twice my second summer.
My last appearance was my finest achievement, the closest I'll likely ever get to professional modeling, and a distillation of as close as I got to embodying the lil' gay Adonis to which I aspired. We were promoting a rare clearance sale in which the company was unloading (mostly ugly) years-old fashions for up to 70% off. As with the store's regular stock, it was largely for women, but that did not stop me from participating wholeheartedly. Alongside my coworker friend Emily, I scoured the racks of ladies' clothing and identified the largest lilac blue scoop neck short-sleeve blouse and paired it with giant, orange denim shorts. She grabbed for me the biggest tennis shoes we had. Nothing fit right, of course. I tucked the blouse into the shorts and we clipped the gaping thigh holes of the shorts behind me with hanger-clips from backstock. There was nothing we could do about the tiny little tennis shoes, which were about three sizes too small and made me tiptoe to our shoot location so my heels wouldn't scrape along the sidewalk on our way to Commonwealth Avenue.
There, we waited on the corner for a break in traffic with my dear friend James, who worked at the store down the road. When we felt safe, we stumbled midway across the asphalt, struck an appropriately aloof pose, and James snapped away, shouting, "yassss! Give it to me, gurlts!! You are serving me thigh, Michael!! Yasssss!!!"
A car approached. We shrieked and ran back to safety on the sidewalk and waited to repeat.
I slid one ill-fitting tennis-shoe'd foot forward and flexed my calf to the camera like I learned English kings used to as a show of power and strength in formal court portraits.
"Yasssssssss!" James tapped on his iPhone. "That's it!"
I sort of felt like one, too. My domain was small, sure, and my rule ultimately short. I didn't do very much ruling, either, but my riches were in bright, shining experience won over gruesome battles with long lines, shoplifters, sales goals, and in-store creeps. My pageants occurred on breaks in back stock, dancing along to the just-released "Anaconda" video with co-workers. My banquets took place after-hours with a court of the most delightful and unique friends I never expected I'd make having spent long academic years ensconced in a bubble community of artists all living, breathing, and learning much of the same.
Nightly, we would help perfect-close each other's stores — one of us making a quick run to the liquor store to pick up a bunch of beer — and then retire to a low-lit living room in one of our college-neighborhood apartments. We'd bitch about work and drink, listen to music and drink, wax prophetic over astrological star-chart readings and drink. Hours would pass and participants would fall off or join in — the extended networks of us #aaemployees even, easily becoming natural and rightful members the Kingdom.
My Boston seemed so young and full of promise! I knew my little school community was full of bright-minded, beautiful people hoping to make the world better in their image, but I realized that summer that those communities dotted the entire city like overlapping constellations in the night sky! Funny as they are, experiences like part-time employment in retail bring those communities of like-minded individuals together, creating rich networks that otherwise never link.
As it goes, empires rise and empires fall. That August, I awoke early one morning after a long night of revelry to pee. On my way back to bed, I slipped and fell and broke my left arm terribly. My roommates took me to the hospital, where I was loaded up with morphine and put in a brace and sling that would encumber my movement for four months to come. High and devastated, I called my boss from my hospital bed to let her know I wouldn't make it to work that day. I wept.
I briefly returned to work and struggled removing the security sensors from clothes with only one arm before leaving the company for good at the end of September.
"Coworkers, friends, baes" my digital farewell address began, "Today is my last shift slaying the sales floor for the forseeable future. I will cherish the times we shared, the laughs we had, the sales we made, the shoplifters we fought off, and, most of all, the love you gave me and all you taught me. You're all such stars with killer looks, crazy smarts, and massive hearts… If you need anything, my name is Michael, just let me know."
My last day was warm and loving; my co-workers posed for a picture with me before ponte dresses; I served the best face I could muster while still so injured and so sad. I trudged on, recovered, and now, I reminisce.
Years later, American Apparel is set to close all its locations for good.
It is strange to consider the retail streets and shopping malls of the world not dotted with black and white American Apparel flags coolly heralding the bright, neon-lit and disco-resounding interiors beyond. It is strange to consider the Halloweens of twenty-somethings everywhere without leggings in every color and sheen and pattern imaginable. It is strange to consider the truly well-made fashionable basics modeled after vintage essentials turn vintage themselves, in due time.
American Apparel occupied a unique and strange place in the retail landscape — scandal-ridden but so proud, special in its self-posturing but not so much in its products (save for the obvious), and a bit too cool for its own good.
Across the street from the store where I worked, a big two-story Uniqlo has opened up. The basics are fashionable, the clothes affordable (if not made in the U.S.A.), the brand image very, very cool. I think the niche will be filled just fine, but perhaps not much past that. American Apparel possesses an inimitable plastic weirdness, its retail aesthetic and atmosphere somewhat, somehow campy uncanny valley. All that belied what truly sets the store apart from others in its market, at least to me, and that is what I experienced in my two technicolor summers working there.
Night after night, I walked home from our post-work parties, slipping through the mists of early morning sprinkler streams, my skinny chinos and striped denim button-down shirt getting damp, sobering me ever-so-slightly. The city stretched out before me, the rambling poetry of Boston's old city streets guiding my perfectly interminable route home. Time grew quiet, its passing less cruel. Lights grew brighter under cover of darkness. In these moments between work and play, night and day, my city seemed to reflect the galaxy of stars above. In those summers between adolescence and adulthood, I dreamed biggest.
As I do all the top-quality oxfords, tank tops, and selvedge jeans I bought on my employee discount, I wear that wonderful bit of my life proudly to this day, and it makes me feel fabulous.